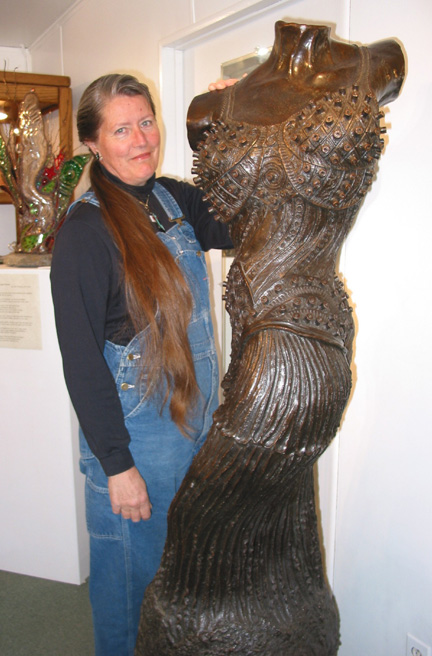 "Woman Warrior"
The bronze sculpture "Woman Warrior" is about strength
through suffering, victory over loss.
She celebrates our collective journey
with a sensuous Dance of Life.
Genevieve Thompson, my mother, survived for thirty years with breast cancer, ironically to succumb to the side- effects of her treatment: radiation and chemo-therapy. We were very close and very much alike. From her first mastectomy, I watched her battle this cruel disease with a straight-ahead determination that seemed at times superhuman. She was our confident General leading inept troops, her family.
In those years of fighting she was the victor, is the victor still, even though the war was lost in 1993. Inept was what I thought we were, because in the end there really was nothing we could do to stop this relentless torture leading down to death. Feelings of guilt or missed opportunities overwhelmed me at times, although I know my mom did not see it this way. While taking care of her like a fierce, sleepless lion at the gate, I often wanted to twist off into another universe where someone so precious would never suffer pain; I wished to take some of the horror into me to lighten her share of Fate.
But all of us bound to this earth must stand and fight like my mother did. The inner armor we put on in these dark hours has become visible in this sculpture. I found that I and my family were not inept, merely human.
"Death be not proud", I feel my mother's embrace, a living presence with me always.
Charlotte Mitchell
---