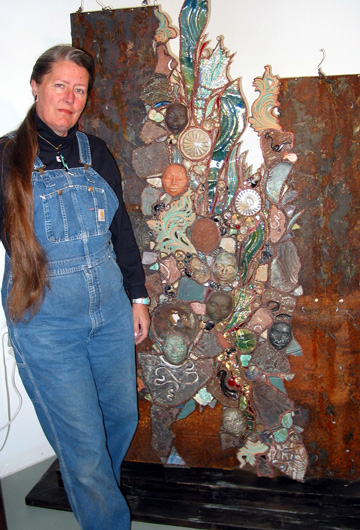 Mending Wall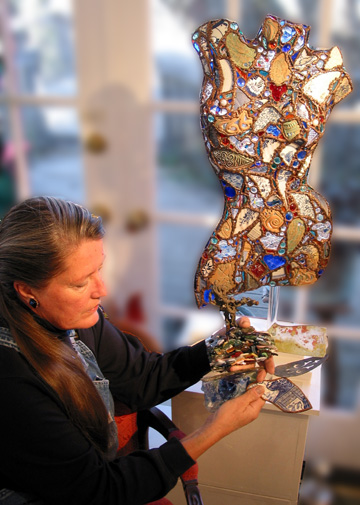 Charlotte holding debris and Debris Torso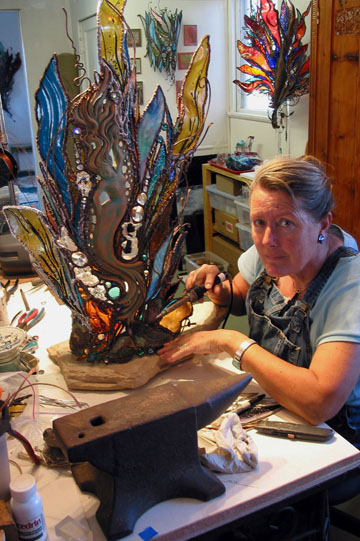 Eternity's Sunrise
2003 Cedar Fire — Redemption and Resurrection
San Diego County suffered greatly from the most horrific wildfire in California's history, the 2003 Cedar Fire. In the small mountain town of Julian, there was loss of life, many injured, and one in three homes was destroyed. The pain from this type of catastrophe is acute; its after-effects will be felt for years, if not for lifetimes.
As an artist, I needed to express Hope for my shattered community, and it has been my unique privilege to do that in a way that is deeply personal and deeply spiritual. After the fire, I was able to bring supplies to various people; I helped sift through the remains of friends homes, a somber task no one should do alone. In the end, it was this moral support that meant the most to me and my friends. To be able to pull something, anything, back from the fire, however altered a shape, however little, it could still be a touch-stone to memory.
So began a quite different approach to my artwork. Just as I reveled in what remained of the landscape after the fire , what was spared, I looked at the fragments of porcelain, the fingers of melted brass and copper, the fused chunks of glass, the oddments of who-knows-what, as materials to begin again something wonderful. After cleaning the pieces and wrapping them with copper foil, I soldered free-standing sculptures, often with a central figure in slumped glass or ceramic. They are powerful and compelling testaments of hope.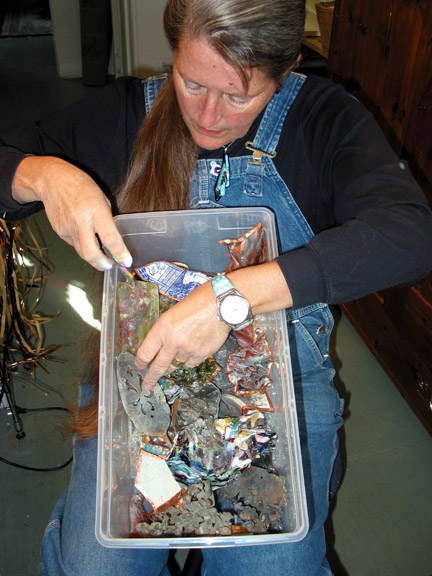 Charlotte with Debris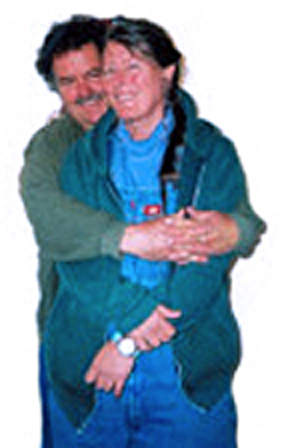 Visit The Mitchell Studio Gallery
4336 Highway 78 (at Wynola Rd), Julian, CA • 760-765-1102
Hours will depend on her health, so please call ahead.